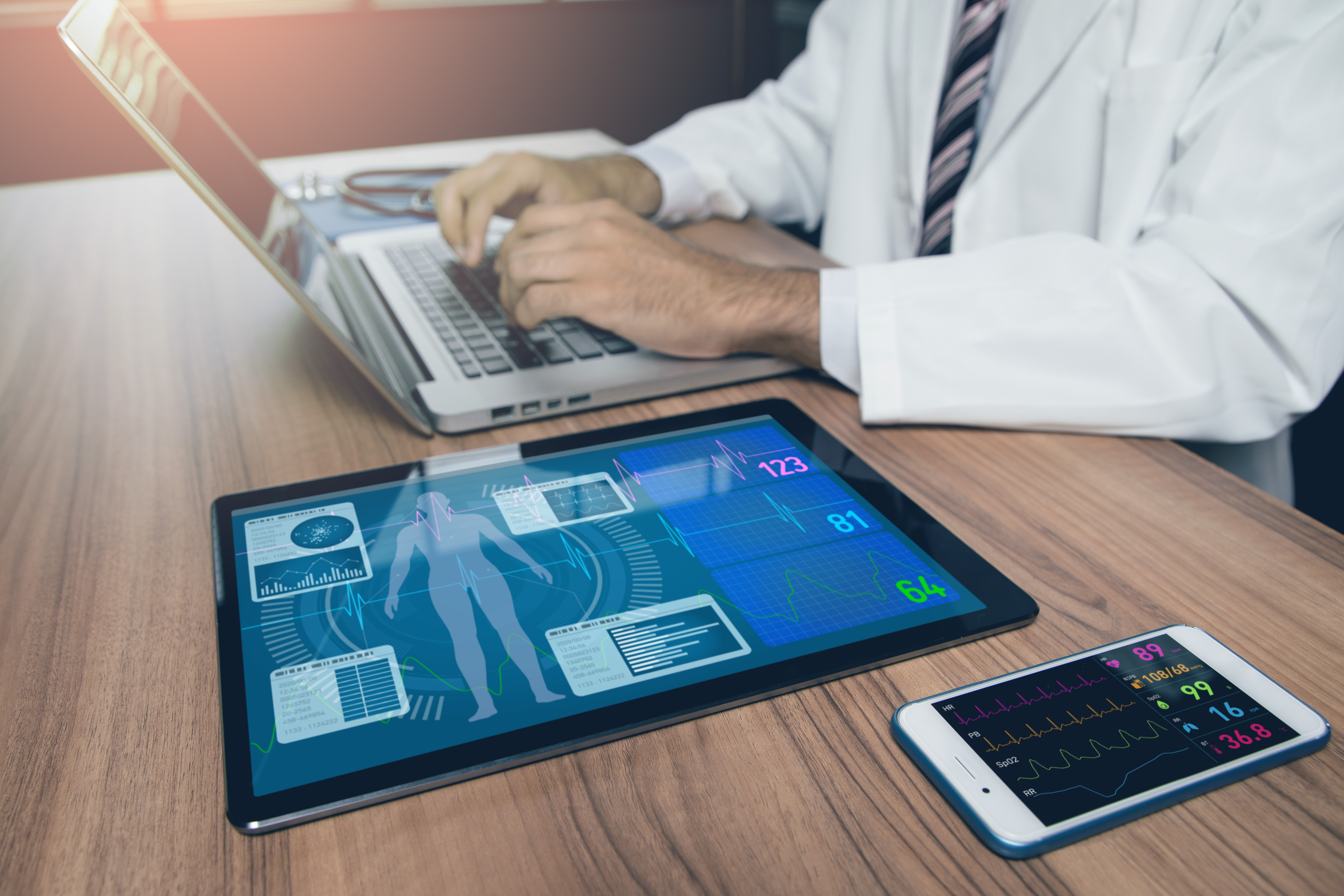 Patient Generated Health Data (PGHD) Management to Improve Patient Care
February 18, 2020
Optimal Healthcare Data Management Can Achieve Benefits for Patients, Clinicians, and Payers

Patient generated health data (PGHD) is everywhere. There are many healthcare technology apps and devices that assist in patient data collection. Patients are eagerly collecting, tracking, and storing health data such as activity levels, and some are sharing that data with their healthcare providers. Some healthcare providers are utilizing patient data collection to aid in their decision-making to improve patient care. PGHD has the potential to change the healthcare landscape and healthcare stakeholders can leverage PGHD to improve outcomes and reduce costs.
In order to optimally leverage patient generated health data to produce useful insights and improve patient care however, proper patient data collection management is critical as data collected but not properly managed can become useless. Healthcare data is sensitive, personal, and protected by regulations such as the Health Insurance Portability and Accountability Act (HIPAA) Privacy Rule and, as such, healthcare data management can be an intricate process.
When looking to capture, store, and utilize PGHD, healthcare stakeholders need to consider factors such as data privacy and security, data accuracy, data governance, interoperability, and compliance with regulations. Because of this, the process requires careful thought and planning and development of proper PGHD frameworks to ensure optimal healthcare data management and utilization.
What is Healthcare Data Management and Why is it Important?
In a broad sense, healthcare data management is the process of storing, protecting, and analyzing data pulled from diverse sources. Healthcare stakeholders are swamped with patient data collection activities from myriad sources including electronic health records (EHR), electronic medical records (EMR), and of course, PGHD. All these data sources must be effectively managed if the power in the data is to be successfully harnessed and utilized.
"Managing the wealth of available healthcare data allows health systems to create holistic views of patients, personalize treatments, improve communication, and enhance health outcomes."


–Evariant
Optimal healthcare data management,especially with the incorporation of patient generated health data, is important as it provides powerful insights into the patient life story beyond the walls of the medical establishment. This will enable the healthcare provider to better personalize the care offered to patients, improving patient outcomes and reducing costs associated with hospital admissions.
Healthcare data management through healthcare technology and data analytics is invaluable to population health management and precision medicine, driving research and improving health.
Leveraging healthcare technology for best-in-class healthcare data management is also critical if healthcare stakeholders are to remain compliant with regulations. In the era of value-based payments and meaningful use , healthcare data management must be a top priority for all healthcare stakeholders looking to remain relevant and functional in the healthcare space.
Benefits of Optimally Managing Patient Generated Health Data
There are many benefits to be gained from the optimal management of patient data collection and PGHD . There are benefits for a variety of healthcare stakeholders including patients, clinicians, payers, and researchers.
Advantages of Improved Patient Data Collection for Patients
Patients set to benefit from the optimal management of patient generated health data through ways such as:
More involvement in their personal healthcare as they take ownership of collecting and sharing PGHD with providers
Better engagement and communication with providers
Enhanced understanding of health conditions
Improved management of health conditions
Fewer hospitalizations and reduction in associated costs

Benefits of Optimized Healthcare Data Management for Clinicians
When PGHD is collected, shared with the provider and optimally managed through the use of healthcare technology, clinicians can realize many benefits. These include:
A more complete view of the patient's quality of life over time and beyond the healthcare setting
Deeper insight into the patient's adherence to treatment plans including medication adherence
Ability to note trends and intervene in a timely manner before acute episodes of illnesses
Better treatment outcomes and reduced hospitalizations
Increased patient engagement
Better patient retention

Benefits of Well-Managed Patient Data Collection and Management for Payers
Payers in the healthcare space can also benefit from optimal patient data collection and management. Benefits to payers include:
Obtaining value for money by tying reimbursements to shared decision-making between providers and patients through incorporation of PGHD in care decisions
Offer incentives for the use of PGHD by providers
Patient Generated Health Data Management Benefits for Researchers
Patient generated health data when properly managed with healthcare technology, can provide a treasure trove of valuable information for researchers helping them to:
Conduct comparative effectiveness research to assess medical therapies to determine the best and most cost-effective therapeutic solutions for routine clinical use
Advance the field of personalized medicine
Develop predictive modelling and analytics
Make progress in the field of population health management
Monitor patients who are participating in clinical trials
Best Practices in Managing Healthcare Data with Healthcare Technology
Proper healthcare data management can be a daunting task. With the volumes of data that consistently flow into the healthcare system, added to the emerging field of PGHD, healthcare data management can overwhelm even the most seasoned healthcare professional if not done properly. However, the many benefits to be gained by different healthcare stakeholders from optimal healthcare data management, are enough to make the effort worthwhile.
Successfully managing healthcare data with healthcare technology to achieve the greatest benefits involves implementing measurement systems, as was executed in several healthcare case studies. These measurement systems are designed on certain principles, such as:
fitting the PGHD into the flow of care and using the data to make it easier for clinicians to do their jobs and for patients to engage in self-management and make informed decisions
ensuring the PGHD measurement system is co-designed with healthcare stakeholders engagement
engaging with patients and clinicians about how to use the PGHD
merging PGHD with data from other sources (clinician reports, medical records, claims) for optimal utility of the data
continuously improving the PGHD measurement system based on the experiences of users and new healthcare technology
Some healthcare stakeholders have begun optimizing patient generated health data, utilizing it to generate actionable insights and guide decision-making. A 2015 survey among healthcare executives found that 73% reported a positive return on investment (ROI) in healthcare technology  involving PGHD such as wearables that track fitness and vital signs.
"The use of such Digital Health apps in just five patient populations where they have proven reductions in acute care utilization (diabetes prevention, diabetes, asthma, cardiac rehabilitation and pulmonary rehabilitation) could save the U.S. healthcare system an estimated $7 billion per year."

– IQVIA
A congestive heart failure remote monitoring program initiated between Northern Arizona Healthcare and partners aimed to improve the management of patients with chronic diseases and/or high-risk conditions, by connecting patients with home-based medical devices and their care providers to ensure proper patient data collection and sharing of PGHD. An analysis of the program comparing data six months before and after implementation found an achievement of:
An average 44% reduction in readmission to the emergency room
An average 64% decrease in the number of days hospitalized
A reduction of $92,000 in per patient hospital charges
This program is a clear indication of the benefits to healthcare stakeholders that can be derived through successful healthcare data management.
The Dartmouth-Hitchcock Spine Center in Lebanon, NH, is a case study in the optimal use of PGHD to improve treatment outcomes. Patients complete a survey at home using a patient portal or in-office using a touchpad prior to their first visit at the center. The data are analyzed in real-time to create a summary report that is fed into the flow of care for use by the patient and the care provider. The provider also inserts some core clinical data elements into the clinical report and all information gets stored in a data warehouse for analysis and use in the care of the patient.
Overall results from a survey on the system found that over 80% of patients rated the system as"excellent to good" and one-third indicated that the system had led to positive changes in their visits. Approximately 50% of clinicians reported that the system saved time.
The Swedish Rheumatology Quality (SRQ) registry at the Karolinska University hospital, in Stockholm, Sweden, is another example where patient generated health data is incorporated into clinical care for optimal benefits.The SRQ registry is web-enabled and integrates real time, standardized data provided by patients, clinicians, and diagnostic tests. This data is used to improve the outcomes of care for individual patients, at the point of service as care is provided, and in the patient's home to support self-management, as well as for quality improvement and research.
Efforts by patient care organizations to fit Digital Health tools into clinical practice has progressed, with 540 current clinical trials in the U.S. incorporating these tools and an estimated 20% of large health systems shifting from pilot Digital Health programs to more full-scale rollouts.
–IQVIA
Researchers can benefit from well-executed healthcare data management. In one study of a framework for smartphone-enabled PGHD analysis, researchers at the Scripps Translational Science Institutelooked at blood pressure (BP) readings taken at variable times by persons in a study using a smartphone. They were able to detect an approximately 2 mmHg decrease in BP over a six-month trial, despite considerable intra- and inter-individual variation. This technique could prove useful for researchers in future study designs to analyze data as the field of digital medicine grows.
Of course, proper healthcare data management needs healthcare technology, and digital disease management solutions are available on the market to help with this. Ensure that selected solutions offer unified storage that is scalable and highly efficient to meet the requirements of multiple use cases.
Healthcare has become more patient-centric and policies such as value-based care will continue to push this movement forward. Patient generated health data has major potential for improving care, increasing patient engagement, lowering costs, and reducing wastes. However, there are many intricacies to properly leveraging PGHD to realize all these benefits. The process must include systems for proper healthcare data management which is inextricably linked to healthcare technology solutions.

---