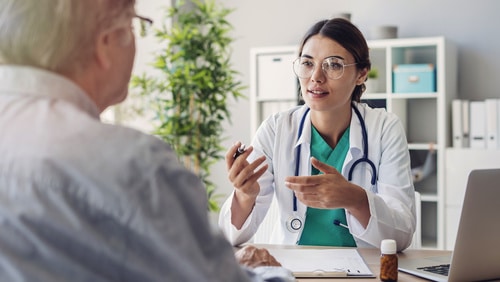 September 24, 2019
Healthcare Technology: Patient Engagement Solutions Allow Progressive Healthcare Organizations to Lead the Way to Patient Empowerment
The healthcare system is complex, involving multiple stakeholders all surrounding the patient at the centre. With the advent of value-based care driven by the Affordable Care Act, healthcare organizations and providers are seeking new approaches to improving patient outcomes and the value and quality of the service they provide. One such approach has been through patient engagement.
What is patient engagement?
The World Health Organization describes patient engagement as "the process of building the capacity of patients, families, carers, as well as health care providers, to facilitate and support the active involvement of patients in their own care, in order to enhance safety, quality and people-centeredness of health care service delivery." Patient engagement is being increasingly recognized as an essential component of health care and major health care reform initiatives such as Meaningful Use, Patient-Centered Medical Homes (PCMH), and Accountable Care Organizations (ACOs), have patient engagement as the goal.
Patient engagement is: "Providers and patients working together to improve health."

HIMSS
Why is patient engagement important?
Patient engagement is important for many reasons including:
Improved health outcomes – engaged patients have better outcomes. Patients who are more engaged in the decision-making surrounding their healthcare tend to be healthier, show better adherence to medication, and have better outcomes.
Patient retention -patients who feel highly engaged by their healthcare provider are more likely to remain with that provider.
Reduced costs -healthcare organizations that invest in healthcare technology to aid in patient engagement, ultimately realize reduced costs as technology such as the Electronic Medical/Health Record (EMR/EHR) can help to improve workflow through the use of shared information, reduce or eliminate paperwork and assure accurate information. Technology can also help to reduce errors, improve scheduling, insurance, and payments.
Organizational competitiveness – a healthcare organization that is fully engaged with its patients functions more efficiently, offers patients options such as online appointment scheduling, and communicates better with patients, among other things. All this provides the organization a competitive edge over other organizations that do not have patient engagement tools and infrastructure in place.
Improved patient satisfaction – patient engagement can improve patient satisfaction as increased communication with their healthcare providers and receiving more information regarding their health can result in patients becoming more confident about their health status and ultimately being more satisfied.
Healthcare Technology for Patient Engagement
Patient engagement is now an essential component to the success of healthcare organizations. Progressive healthcare organizations are developing and implementing patient engagement strategies and solutions that can assist them in improving the quality of healthcare services they deliver and provide them with a competitive advantage. Healthcare technology plays a major role in any patient engagement strategy and as such, progressive healthcare organizations are utilizing available technologies and implementing processes to digitally transform the way they engage with patients including:
Allowing patients to book appointments and request prescription refills online
Enabling patients to access their test results online
Communicating with patients via email, SMS, video calls, etc.
Utilizing social media and YouTube videos to provide information to patients
Developing patient portals that integrate with EMR/EHR systems and can facilitate patient registration, online bill payments, secure messaging, among other things
Incorporating data generated from wearable devices and mHealth apps that patients are using as part of their care process
Implementing Digital Disease Management Solutions that can collect and leverage patient generated health data for improved patient outcomes
Utilizing telehealth/telemedicine to provide patients with specialist care that is not available in their setting or to reach patients in remote/difficult to access areas
Acquiring patient engagement solutions and tools
"A study out of the Johns Hopkins University School of Medicine found that medication adherence increased from 54% to 73% when automated telecommunication-based reminders were used."
If you are looking to develop or enhance patient engagement strategies in your healthcare organization and are seeking dedicated software tools for improving the care you deliver, Acuma Health's Digital Disease Management Solution may be right for you.
Get started by downloading the Guide to Leveraging Healthcare Technology here.
---